Louisiana Bulk Honey
Wholesale Sizes and Quantity discounts. Get the quality honey you need at the best prices around. Pickup in Jennings and Bunkie, Louisiana
Pricing info
Pol-Line Plus Queens
CAN WE ACHIEVE REAL VARROA MITE RESISTANCE IN OUR LIFETIMES? Now offering our VSH queens Shipped Direct to you.  
More info
Pollination
Merrimack Valley Apiaries shipped the first load of bees ever to California from the east coast out of South Carolina in 1988. The following year we sent two from Florida. Sending bees across the country at that time was unheard of. Today that has all changed of course. Thousands of hives are shipped safely from Florida and other southern states for almond pollination in California. At this point in time, Evergreen Honey Company typically sends between 12,000 and 15,000 hives to California for almond pollination.
More info
NUCS
We were the first beekeepers to offer NUCs to beginners, hobbyists and commercial beekeepers alike as an alternative to packages. Choose your pickup location below for more information.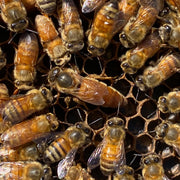 Just a note to let you know the Nucs and Queens I purchased are great! This season's hives built up quickly, are in great shape, and look ready for the VT winter. Thanks!
Tom R. South Burlington, VT
Amazingly lively nucleus of bees and great bulk honey available
Kevin B.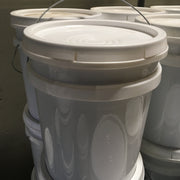 Dropped by to buy a 5 gallon pail of honey for mead making. The man working the warehouse was SUPER friendly and helpful. He gave us taste samples of about 8 honeys and answered all of our questions. Most of their honey is sold in the natural raw state and is delicious! The cranberry was my favorite. This is an amazing business - they don't just sell honey but they truck their bees all over the country to pollinate everything from almond trees in California to oranges in Florida to cranberries in the Cape. They sell nucs of bees in the spring for beekeepers too. Merrimack Valley is my new go-to place for honey, I'll definitely go back.
Cynthia B.
Thanks for the great nucs you provided to our family, myself, brother and nephew. They were bursting at the seems with bees, brood, pollen and honey. The boxes they came in will make nice swarm traps. They are currently filling up 10 frame deeps. Queens laying up very well.
Mike M.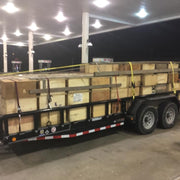 Great team. Picked up 270 nucs from Wes for our bee club.
John H.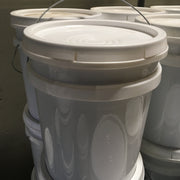 Our go to source for the best honey, to make the best mead!
Sean H.
VSH/ POL–LINE Plus BEES
CAN WE ACHIEVE REAL VARROA MITE RESISTANCE IN OUR LIFETIMES?
Bulk Honey and Wax
We sell Bulk Raw and Filtered honey.  Check out our Prices!

We have been in the bee business over 60 years. We stand behind our products and will do whatever we can to deliver the best quality every time.
ABOUT OUR QUEEN REARING PROGRAM
As commercial beekeepers we maintain 35-40,000 colonies for honey production, crop pollination, and nucleus building. Over the past 20 years we have built our own queen program,  raising 50 to 60,000 queens each year to support  and replace our stock. During this time we have developed a close relationship with the USDA-ARS lab in Baton Rouge, and were initial contributors to the POL. LINE QUEEN PROJECT. 
As a result of ongoing efforts to develop varroa resistance in our stock we are producing bees which require less treatment than others. For 2021 we plan to make the queens we use every day available to commercial and hobby beekeepers alike.
Order Here
ABOUT OUR METHODS
We keep over 20,000 colonies in 300 permanent yards in central Louisiana for honey production. During the harvest we choose the 2 highest honey producing colonies in each yard as potential breeders. We then sift the 600 colonies seeking 15 to 30 with the lowest mite counts as breeders. We believe the large number of colonies (20,000) in the gene pool prevents or minimizes inbreeding resulting in a stronger expression of resistant traits than queen breeders with less colonies to choose from.
ABOUT AVAILABILITY
A limited amount of these queens will be available. Queens can be picked up  or shipped from Jennings Louisiana with pick up only from Billerica Mass, or Otto NY.
We have wintered these bees experimentally in Western NY with good results (near100%) last year. They say a picture is worth a thousand words.
Honey Bee Nucs
The B Farm is the web's best source for honey bee nucs for sale. We're also your top source of honey bee queens for sale online. Our team uses their decades of combined commercial beekeeping experience to do everything they can to provide our customers with the best quality service every time. We maintain thousands of active colonies for honey production and nucleus building and offer only the best honey bee nucs for sale online to our customers. Find the most convenient pickup location by browsing our honey bee nucs collections. With operations in New York, Massachusetts, Vermont, and Louisiana, we have several locations to choose from.
If you have any questions about our queens, honey bee nucs, and honey bee hives for sale, don't hesitate to reach out to us. We are a third-generation family-owned and -operated business, and we strive to give our customers nothing but the best.